Automatic Metering & Conveying System
Features
In addition to storing barrel for Vacuum packages and storage function, this unit automatically handles powder package
conveying, featuring easy operation, and avoiding the need to carry and add raw material at Mixer operation platform. It also
prevents dust leakage saves labor and time, and helps reduce processing cost. An environment-friendly and economic
conveyor system that can increase the productivity by 30%, this is the ideal model for the plastic industry.

Photos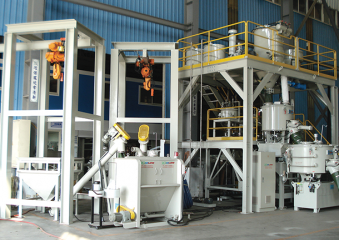 JUMBO BAGS CRANE SET
MIXERPULVERIZERCOMPOUNDING SYSTEM
Contact