CL-MM Vertical Mixer
Features
Suitable for many kinds of material. It is specially equipped with high speed motor & diffusion tool, which can mix material more evenly in a short time. No residual heat and no damage to the quality of mixed material.
This machine can diffuse lump material more quickly.
Suitable for mixing car-brake material, diffusing fiber glass, ferrite, chemical raw materials and textile fiber etc.
Photos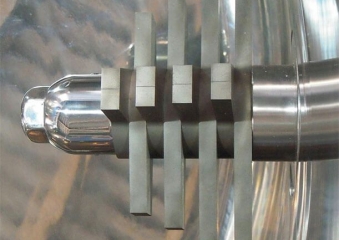 DIFFUSION BLADE
Specifications
| | | | | | | | |
| --- | --- | --- | --- | --- | --- | --- | --- |
| Model | Capacity | Tank Capacity | Mixing Weight | Main Power | Auxiliary Power | Machine Size | Machine Weight |
| CL-MM100 | - | 35~70L | 40kg | 7.5HP‧4P | 10HPx1 | 1600x800x1400mm | 900kg |
| CL-MM200 | - | 70~140L | 80kg | 10HP‧4P | 10HPx1 | 1700x900x1500mm | 1000kg |
| CL-MM400 | - | 150~300L | 150kg | 15HP‧4P | 10HPx1 | 1850x1050x1600mm | 1200kg |
| CL-MM600 | - | 200~400L | 240kg | 20HP‧4P | 10HPx1 | 2050x1300x1750mm | 1500kg |
| CL-MM1000 | - | 350~700L | 360kg | 25HP‧4P | 10HPx2 | 2450x1600x1900mm | 2500kg |
| CL-MM1500 | - | 600~1000L | 540kg | 30HP‧4P | 10HPx2 | 2600x1800x2000mm | 3000kg |
| CL-MM2000 | - | 800~1400L | 720kg | 40HP‧4P | 10HPx2 | 2800x1900x2100mm | 4000kg |
| CL-MM2500 | - | 875-1600L | 870kg | 50HP‧4P | 10HPx2 | 3000x2100x2200mm | 4200kg |
| CL-MM3000 | - | 1400~2100L | 1080kg | 60HP‧4P | 10HPx2 | 3500x2100x2200mm | 4400kg |
| CL-MM4000 | - | 2000~2800L | 1500kg | 60HP‧4P | 10HPx2 | 3550x2150x2200mm | 4550kg |
MIXERPULVERIZERCOMPOUNDING SYSTEM
Contact